Deciding to start a blog comes with a lot of decisions to make. One such decision: What's the best blogging platform should I use?
While there are numerous blogging platforms available, below we take a look at some of the most common platforms to help you make the best decision.
So What is the Best Blogging Platform?
WordPress.com
Price: Free
WordPress.com stores your site's content for free on their servers. However, this means users receive a limited version of the WordPress software. Still, it's a nice choice for hobby bloggers who don't want to invest money. It's also a good option for people who plan to upgrade to a self-hosted WordPress blog in the future.
Pros:
No set-up costs.
Simple to use; no coding or design knowledge required.
Hundreds of themes to choose from.
Cons:
Functionality is limited unless you pay for upgrades.
It looks less professional.
You do not technically own your blog, which means you have little control over advertising revenue. It also means WordPress can suspend your site at any time.
Your site comes with .wordpress in the domain.
WordPress.org
Price: Free software; Approximately $3 per month for hosting. For a step by step guide, check my how to start blogging guide.
A self-hosted WordPress blog is one that uses the WordPress software on a third-party server. With it, you can install plugins, edit your HTML code, and more, giving you full control over your website while making it look more professional. A self-hosted WordPress blog is usually the best way to go for anyone willing to invest a couple of dollars per month. It's ideal for business owners, professional brand builders, and any blogger looking to expand their site's functionality and professional appearance. Discover more WordPress hosting providers at HostingFacts.com.
Pros:
User-friendly with full control and customization options.
Access to over 1,500 free themes and 20,000 free plugins.
Search engine friendly options.
Cons:
Hosting on a third-party server can require some technical knowledge, but most hosts (like Bluehost or iPage) offer quality technical support.
Due to its popularity, WordPress is vulnerable to security threats.
Start your Blog with iPage today and get a free domain name
Blogger
Price: Free
Since Blogger is owned by Google, you'll have access to Google tools like AdSense, Analytics, etc. However, Blogger is not nearly as flexible as WordPress.org. This platform is great for hobby bloggers and brand builders who don't want to invest any money but may want to make some money through ads. Since it is easy to use, it is also a great platform for beginner bloggers just learning the ropes.
Pros:
Completely free and easy to use.
Can place AdSense ads.
Access to HTML code, so there are more customization options.
Cons:
Fewer themes and storage space than WordPress.com.
You cannot self-host, so your blog is dependent completely on Blogger's current offerings.
Your site will have .blogspot in the title.
Tumblr
Price: Free
Tumblr is easy to use and is a very social platform. This is the perfect place for bloggers who like the idea of "reblogging" posts. Its platform is best for microbloggers, so it's perhaps not the best place to start if you are looking to develop long-form content.
Pros:
Unlimited storage.
Approximately 1,000 themes to choose from.
HTML and CSS access for customization.
Cons:
Backing up your blog and importing your content from other platforms is difficult.
There are very limited plugin options.
It is tough to monetize.
TypePad
Price: $8.95+/month
TypePad is a good platform for business professionals or brand builders who don't mind investing some money every month into their blog. That price can pay in delivering more features and a more professional-looking site. However, most people will still tell business bloggers to choose a self-hosted WordPress platform due to its large community, but TypePad does have its advantages.
Pros:
They host on their servers, but you own your blog.
Unlimited storage space.
Easy to use.
Cons:
It costs a few dollars more per month than a self-hosted WordPress site.
Customization options can be limited.
WIX
Price: $4.08+/month
WIX is a good website option with blogging capabilities that is ideal for businesses. With its ecommerce functions, WIX makes building your entire ecommerce business website simple, although full control over your online shop is somewhat limited.
Pros:
Unlimited bandwidth.
Ad integration.
Easy to use.
Domain registration options.
Up to 20 GB storage.
Hundreds of professional-looking templates.
Cons:
More expensive than a self-hosted WordPress blog.
Ecommerce tools aren't very advanced.
Limited customization options.
Any of the free options are ideal for novice or hobby bloggers who don't want to invest any money while the paid options are better for business blogs. Choosing the right one comes down to how you want your site to function. Which platform do you think you'll choose?
Quick reference
Mike Wallagher of Start Blogging Online put together a nice comparison of blogging platforms you can reference as you choose a blogging platform.
Be sure to click on the image to see a larger version.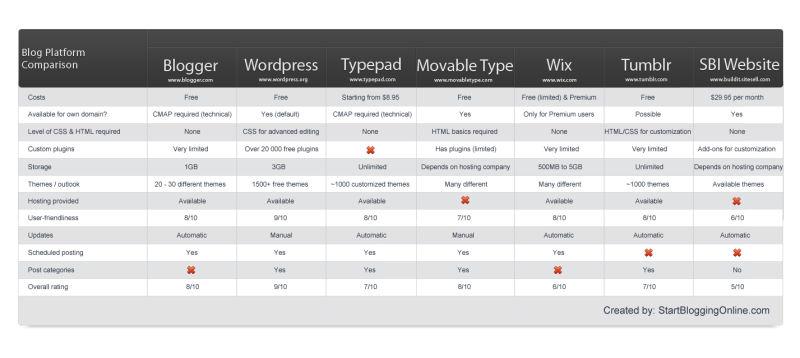 Blog Comparison Chart – Start Blogging Online